If Armenia was still a kingdom, Sophie would be it's queen !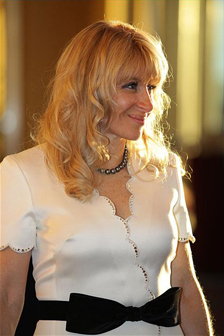 Sophie Audouin-Mamikonian
She's a princess. And by that, we mean literally a princess. She indeed is heir to the Armenian throne (if there were to be a throne again one day). She also enjoys French cheese toasts dipped in her tea every morning. With such a weird author, literature couldn't get any better! Born in 1987, while Sophie was struggling with the free time left by her quiet newborn baby, Diane, Tara was inspired by the Shakespeare masterpiece: "A midsummer night's dream." Fairies, wizards, vampires, everything feeds the never-ending imagination of this woman, who often stops right in the middle of the road when she has a new idea. Talk about survival instinct!
So just for you, Generation Taraddicts, has come to this strange princess, and is now delivering a very special interview! Click on the scoop below to read it !

Don't know Sophie yet ?
Sophie Audouin Mamikonian was born in 1961, mother of two girls, Diane and Marine, who are her first readers, and supported by her loving husband Philippe, she has never stopped writing since her childhood. She is the author of the Tara Duncan saga (a twelve book fantasy series), but that's not all, she also published a thriller "La Danse des Obèses" (The obese's dance) and another saga is actually published in France (and soon to be translated in English) "Indiana Teller", a werewolf story… without werewolves, the first book "Lune de Printemps" (Spring Moon) is already a huge success. Coming this january, is her latest creation : La Couleur de l'Âme des Anges (Angels' Soul Color). She also works in the music industry, writing songs and books for her young children heroine, Clara Chocolat, whose first album has been a hit! Many projects are in preparation, a musical, a movie, and even more! But between all her great projects, she has always been close to her fans; she gives a lot of her time, answering mails, and updating her blog and facebook, making her a real author 2.0.