The cartoon is now broadcasted in the USA !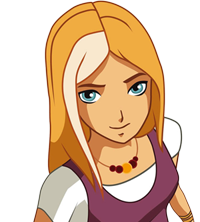 The animated series
In 2007, Sophie Audouin Mamikonian signed a contract with Moonscoop. Many years of work later, their project finally comes to life on screen! Tara is a would-be normal teenager, but with her overpowered, and mainly uncontrollable magic, she finds it kind of difficult to fit in. But she is not alone, with her friends, Cal and Sparrow; she is a member of the Alpha team, charged to protect Earth of Otherworld's dangers, and to keep magic a secret to the eyes of common humans. They sometimes are joined by the Beta team, directed by the half-elf Robin and constituted of Fabrice the werewolf and Fafnir the ill-tempered she-dwarf. Under the supervision of the mighty dragon Master Chem and Isabella, Tara's rigid grandmother, they have to mix ordinary life with the pursuit of renegade spellweavers a magical potion that will explode more than once!
Episode List
(A "B" indicates the presence of one member or more of the Beta team)
Episode 1 : La sirène muette
Episode 2 : Best Friends Forever
Episode 3 : Le sceptre caché
Episode 4 : Gold Fever
Episode 5 : La licorne décornée
Episode 6 : Frère de crocs (B)
Episode 7 : Haute couture
Episode 8 : L'honneur de maître Chem
Episode 9 : Le miroir de jouvence
Episode 10 : Disenchanted
Episode 11 : Mer-made
Episode 12 : Alpha Male (B)
Episode 13 : Le collier de rubis
Episode 14 : Cyrano d'Autremonde
Episode 15 : Clairvoyant (B)
Episode 16 : Stage d'été (B)
Episode 17 : Les 4 parchemins (B)
Episode 18 : Coeur de Pierre
Episode 19 : Assaut sur le manoir
Episode 20 : La coupe d'invulnérabilité
Episode 21 : Comme par Magie
Episode 22 : Guetteuse de mon coeur
Episode 23 : L'or et la dragonne
Episode 24 : Pustules et boutons (B)
Episode 25 : Un air familier (B)
Episode 26: Le vilain petit vampire (B)
Diffusion
The animated series is distributed by Kabillion in the USA.
Main character on the series
Here's a list of the main characters of the books present in the animated series :
Tara Duncan and her familiar Galant (main character)
Caliban Dal Salan and his familiar Blondin (main character)
Moineau Daavil and her familiar Sheeba (main character)
Robin M'angil without his familiar (secondary character)
Fabrice de Besois Giron, without his familiar (secondary character)
Fafnir Forgeafeux, without her axes (secondary character)
Isabella Duncan (recurring)
Master Chem (recurring)
Manitou (recurring)
Selenba (antagonist)
Tandilus M'angil (cameo)
Selena Duncan (cameo)
Trivia :
A character bearing a troubling likeness with Magister appears in one episode...
Two recurring characters have the same name of two main characters of the 4th book of Tara Duncan, Jeremy and Jordan, but their ressemblance ends here.
Sandra's character is clearly inspired by Angelica.
Tara Duncan french opening
Interpreted by the sparkly Dania Gio the song "Sortcelière" (Spellbinder) already seduced thousands of fans. Discover the clip :D
Dania, being the cool girl she is, acceptez to answer some of our questions ! Click on the scoop below to discover it !